Stretch wrap the palletized products on forklift
Maybe you think this idea is odd, but it's actually truely realized by our orbital stretch wrap machine under the brilliant idea of expanding the application scale of horizontal stretch wrapping machine.
Many times we feel it's exhausting when wrapping a large size product or object on pallet with the manual wrapping tools and stretch film. There are not many choices for the over-sized goods to be wrapped by a machine. The pallet stretch wrapping machine is a helpful equipment for wrapping pallet loads, but it's only responsible for wrapping the pallets in horizontal directions. But for many products, we want to secure them on the pallets reliabily. Which means, the products/goods must be stretch wrapped with the pallets below steadily in vertical directions.
Professionally, the horizontal orbital wrapping machine is the right machine for vertical wrapping, but it has its own limitations. The horizontal orbital stretch wrapping machine is mainly used for applications of long shape products like the steel rods, steel pipes, aluminium profile, door panel as well as bundles of timber, bar….It's not applicable to short bundles and over-sized goods such as a pallet load. While in many industries, stacking their products on a pallet and get the whole load wrapped as a whole is the best and most effective way of packaging. It can avoid many unnecessary procedures and save the man power needed as well as the labor costs.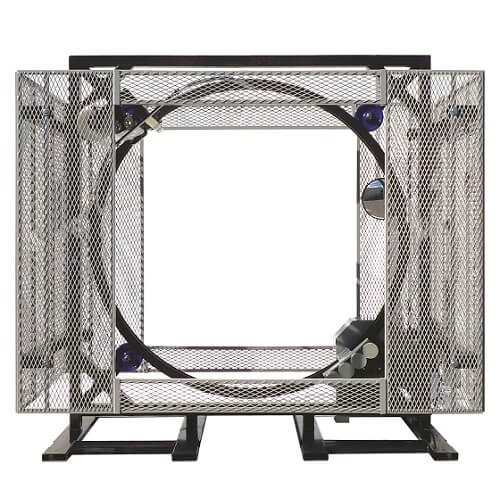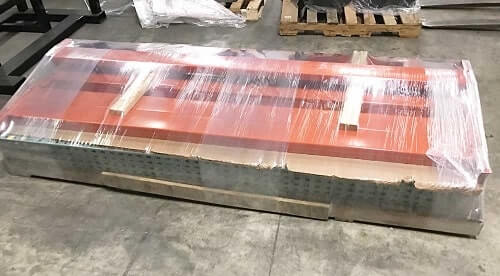 This semi-automatic orbital strtech wrap machine has a rotating ring with large diameter which could allow pallet loads to get in. With the specific design of low working height, operators can directly feed the loads into the wrapping machine by forklift and get the palletized loads wrapped while the pallet is on the forklift and loaded by the forklift. This machine is able to secure pallet loads in seconds, perfect for securing over-sized goods, oddly shaped products……
In order to get the better wrapping performance, we also could upgrade this machine with photoelectricity sensors and automatic film cutter. The wrapping machine is able to move on rails back and forth, automatically positioning, starting and ending the wrapping with no manual control actions. Making the wrapping layers adjustable in PLC control program, greatly reduce the labor intensity which the operator can finish the whole wrapping process when sitting on the forklift seat with no need to get down.