Special wrapping machine packing coils and reels
For many raw materials and primary processed products, we generally use the packaging form of winding the product into a reel or roll shape. This includes steel products, steel coils, steel strip coils, steel wires rolls, etc., as well as copper pipes spools, strapping belt bobbin, hydraulic pipe reels, corrugated pipe reels, hose reels and other pipe products. This packaging method can minimize product packaging size, save storage space, improve transportation efficiency and reduce transportation costs.
However, there are other problems with this form of packaging, mainly due to the large volume and weight of these raw materials and primary processed products, and the large size and heavy weight of the coil and reel body. For such reel products, common packaging methods such as shrink wrapping, bagging, etc. are not suitable. So how to package these large and heavy coil shape products?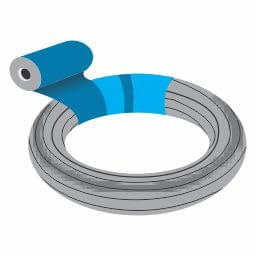 Here we may need to consider the wrapping machine suitable for coil shape products. The coil wrapping machine refers to a wrapping machine that uses wrapping materials such as stretch film, kraft paper, and braided tape, non woven fabric to wrap the coil body through the core. The machine has a C-shaped swivel ring on which the entire roll of packaging material is mounted. The product can enter the center of the ring body through the C-shaped ring, and the packaging material can be wrapped around the surface of the product by turning the C-shaped ring, wrapping layer by layer until the product is packaged.
The reel wrapping machine is controlled by PLC system, equipped with multiple sets of sensors, and transmits signals to the PLC system. This fully automatic coil wrapper can reduce labor input and improve overall packaging efficiency, which can greatly reduce labor costs in the long run.